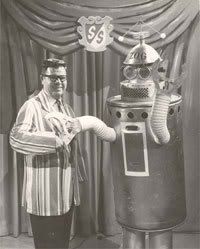 While there were those of us in Maine who didn't know of him, Eddie Driscoll was an internationally-known TV personality and host who operated for many years out of Bangor, hosting shows which aired in locations elsewhere including a wide part of Canada. He passed away Saturday here in Portland.
I found out about Driscoll recently from
Penny Dreadful
, a Massachusetts horror host who discovered him when researching the history of horror hosts in New England for a documentary piece she is making. While Driscoll may not be considered by most to be a horror host, he was indeed of the same breed, and with glee and mischief he hosted his own strange show in Bangor on WLBZ,
Weird
, for many years, starting in 1954, and retiring in the late 80s.
In a WLBZ piece filmed after his death,
clips are shown
from several of his shows, including the intro to
Weird
which starts out with, "The journey you are about to take is....
WEIRD!
" I only wish as a kid I had that to look forward to every weekend.
Long-time WLBZ Personality Eddie Driscoll Dies
Web Editor: Maureen O'Brien, Managing Editor
Created: 9/24/2006 9:43:01 AM
Updated: 9/24/2006 8:36:33 PMEddie Driscoll, host of the Bangor areas's first live children's program, died Saturday in Portland. He was 81 years old.
Eddie Driscoll was with WLBZ from the beginning, when the station signed on in 1954.

In his heyday in the 1960s, Driscoll hosted shows including "Weird," "Chef Eduardo," "The Great Money Movie," and "Mason Mutt." He was known for his quirky characters and offbeat skits.

Eddie Driscoll retired from television in 1986.

Driscoll had alzheimer's disease, and had been living at the Barron Center in Portland. He leaves behind his wife, Ruby, daughters Amanda and Wendy, and grandsons Tucker and Wilson.

Calling hours will be Saturday, September 30 from 12-1 at the Dolby and Dorr Funeral Chapel in Gorham. That will be followed by a celebration of Eddie's life from 1-2.
[ Source ]
More information about Eddie Driscoll can be found here, at
The Genius of Eddie Driscoll
, where
Weird
is discussed briefly:
In his books, author Stephen King mentions Eddie Driscoll and "Dialing for Dollars." King was also a big fan of "Weird." Late night on Saturday, Channel 2 would show some typically awful, lousy, horrible movie with live commercial breaks featuring Eddie. These breaks could be up to fifteen minutes long and were usually more entertaining than the movies. Members of the Air National Guard from nearby Dow Field joined Eddie for one "Weird" stunt. In the field behind the station, with volunteer service people, US government equipment, and fake ammo, Eddie created a live World War Two scene . Neighbors came out to see what all the commotion was about at eleven o'clock on a Saturday night. It was just Eddie Driscoll and his co-conspirators, making TV history.
Here's to the real entertainers. Here's to Eddie Driscoll, King of Weird TV.