Okay. Fortified by the eerie glee of
Dan Blakeslee's
Halloween performance last night at Bubba's (which featured the also excellent Hot Rod Fury and Dead End Armory, not to mention the incomparably spooky DJ sounds of Matt Little), I am going to have a go at typing all this stuff up again, because I want you all to know about some cool stuff that's going on between now and Halloween. Wish me luck!!!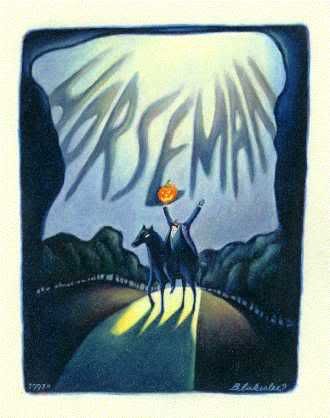 ------------------------------------------
M I S E R Y
novel by Stephen King
WHEN
: Friday October 27, 2006 8:00pm, Saturday October 28, 2006 8:00pm, Sunday October 29, 2006 2:00pm
$
: Ticket Price $20 Canadian
WHAT
: Adapted by Simon Moore, produced by Capitol Theatre and Theatre Windsor. Misery is the story of Annie Wilkes, an obsessed fan of author Paul Sheldon. Misery is a psychological thriller certain to send shivers down your spine. You don't want to miss this one, and trust us...you don't want to make Annie angry. When you look into the abyss.....the abyss also looks into you. See Annie come to life like never before... She's back... and she's SCARIER than ever. Warning: Extreme language and violence
WHERE
: Capitol Theatre and Arts Centre, Windsor
FMI
: Call the Capitol at 519-253-7729 or on the web at
www.capitol.on.ca
-------
Haunted House
WHEN
: Friday October 27, 2006 from 5pm to 7pm, Saturday October 28, 2006 from 6pm to 9pm
WHAT
:Haunted House for all Ages. Put on by the Athens Rec Dept and the 8th grade class.
$
: Free, but will take donations. All donations will go to help sponsoer 8th grade class Boston Trip.
WHERE
: Athens Exhibition Hall, RT 150 Athens, across from Jim's Variety.
FMI
: Athens Rec, 431-1132
------
House of Frankenstein
WHEN
: 8 p.m., Friday (10/27)and Saturday (10/28)
WHAT
: Baron Frankenstein is bored trying to bring life to the lifeless so he instead tries to rid people of their vices. What?! Spend an evening rattling about between laughter and terror at this play.
WHERE
: Waldo Theatre, 916 Main Street, Waldoboro
$
: $12, or $7 for students
FMI
: 832-6060 for reservations
------
Halloween Silent Film Night -- The Hunchback of Notre Dame
WHEN
: TODAY! Friday, October 27. Costume contest at 7:00 p.m. (contestants should arrive before 6:45 for entry), film plays at 7:30 p.m.
WHAT
: See this 1923 classic silent horror film accompanied as it should be by the gigantic, thundering Kotzschmar Organ! Guest organist Scott Foppiano will set the scene. Portland Ballet will perform two brief pieces, "Danse Macabre" and "The Funeral March for a Marionette," just before the film starts. Wow! Two of my spooky favorites.
WHERE
: Merrill Auditorium, 20 Myrtle Street, Portland
$
: $10 suggested donation, $5 for folks in costumes, free for children under age 10.
FMI
:
Friends of the Kotzschmar online
or possibly PortTix can also help at 842-0800
------
Haunted Hayrides
WHEN
: beginning at 6:30pm every night through Halloween
WHERE
: Next to Scarborough Downs, Route 1, Scarborough
$
: $12, or $8 for children ages 6-12, free for children under 6. Cash only -- these ghouls like the old-fashioned stuff and do not accept credit or debit cards!
FMI
: 885-5935 for reservations (encouraged)
------
Wharf Rats
WHEN
: Friday Oct 27, Saturday Oct 28 at 7:30 pm, Tuesday Oct 31 at 9:00 pm (Halloween Show!), Thursday Nov 2 and Friday Nov 3 at 7:30 pm, Friday Nov 10 and Saturday Nov 11 at 7:30 pm
WHAT
: Performed by
Running Over Productions
(infamous zombie-mongers so dear to my heart). An Original Suspense Thriller by Keith Anctil, Directed by Ariel Francoeur. Fog. Booze. Vermin. Murder.
$
: $8 in advance at any Bull Moose Music location, $10 at the door.
WHERE
: Presumpscot Grange Hall, on 1844 Forest Avenue (across the street from Tortilla Flats)
FMI
:653-8898 (Joshua Douglas) or 409-3949 (Will Stewart)
------
The Passion of Dracula
WHEN
: 8 p.m. Fridays and Saturdays, 2:30pm Sundays, through Nov. 12
WHAT
: In a fresh-blooded version of the classic tale, director Michael Rafkin has done away with the stereotypical male predator/protector roles and given the stage over to a new breed of Draculas and Van Helsings. Do not fear, there are plenty of fangs and stakes through the heart still.
WHERE
: Portland Players, 420 Cottage Road, South Portland
$
: $17 opening night (10/27), $20 all other shows except for seniors ($18) and students ($15). No word on whether blood donors get a discount.
FMI
: 799-7337 for reservations
------
All Hallow's Eve Horror Ball
WHEN
: Saturday October 28, 9pm
WHAT
: You'll not only see Goth darlings By Blood Alone, but also Taming the Shrew AND Covered in Bees. Taming the Shrew are a perfect Halloween band with angst and darkness running throughout songs like "Chamber of Thrills" and "Contessa." Covered in Bees are a Portland "death punk" band who like to sing about "Zombees," "Swamp Man," and care about their fans enough to warn them about dark woods and witches. 21+ show. Everyone's going to be in costume, so raid the wardrobe closet and show 'em what you've got!
WHERE
: Pub 33, 33 Sabattus Street, Lewiston
$
: FREE!
FMI
: 786-4808
------
Ghost Train
WHEN
: trains run hourly, at 4:00/5:00/6:00p.m., Saturday Oct 28 and Sunday Oct 29
WHAT
: Halloween surprises along the track! Wear your costume on the train! Prizes for most creative costumes (age groups 5 and under, 6 to 12 years, and 13 years and over). Tour the decorated museum with its cabooses, parlor car, and ancient railroad artifacts!
WHERE
: Maine Narrow Gauge Railroad Co., 58 Fore Street, Portland
$
: $10, or $9 for adults age 62 and older, $6 for children ages 3-12, free for children under 3
FMI
: 828-0814 or
www.mngrr.org
------
A Haunted House
WHEN
: Saturday, October 28, 6 to 10 p.m. Pretty scary at 6 p.m., very scary after 8 p.m.!
WHERE
: North Yarmouth Academy, Yarmouth
$
: $1 to $2 donation
FMI
: 846-9051, ext. 357
------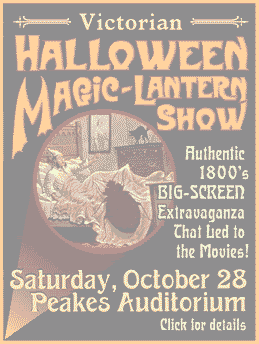 A Victorian Halloween Magic Lantern Show
WHEN
: Saturday, October 28, 7:00pm in Bangor, and Sunday at 2:30pm in Rockland
WHAT
: Travel back in time with the boisterous fun of America's only Victorian magic-lantern show. An authentic 1890s visual extravaganza projected on a full-sized screen…the kind of show that led to the movies! Halloween stories like Poe's "The Raven", spooky animated comedy and outrageous songs—all dramatized on screen by a live showman and singer/pianist. The audience participates in the fun, creating sound effects, and joining in chants and hilarious sing-alongs! National Public Radio called it "… a living national treasure!" Produced by River City Cinema and the American Magic Lantern Theater
WHERE
:
SATURDAY SHOW: Peakes Auditorium at Bangor High School, 885 Broadway, Bangor
SUNDAY SHOW: The Strand Theatre, Main Street, Rockland
$
:
SATURDAY SHOW: Tickets are $10 for adults and $5 for 18 and under. Tickets available NOW at BookMarc's, 78 Harlow Street, Downtown Bangor and Borders at the Bangor Mall!
SUNDAY SHOW: Tickets are $12, $6 for anyone under 18.
FMI
:
SATURDAY SHOW: 989-9494 or for more information visit
www.rivercitycinema.com
SUNDAY SHOW:
www.rocklandstrand.com
or call 594-0070
------
Spooky Stories
WHEN
: Sunday, October 29, 2:00p.m.
WHAT
: Storytelling by flashlight, with treats. Costumes are encouraged!
WHERE
: Children's Museum of Maine, 142 Free Street, Portland
$
: $6, free for infants under 1
FMI
: 828-1234
------
Tales of the Supernatural
WHEN
: Monday October 30, 7:00-9:00pm
WHAT
: Storytellers Lynne Cullen, Lorna Stengel, and Jennifer Armstrong tell spooky tales for adults from England, Ireland and Scotland and from the Romany people.
$
: Free, donations accepted.
WHERE
: Bull Feeney's, 375 Fore Street, Portland
------
Party of the Undead
WHEN
: Sunday, October 29, 10:00pm
WHAT
: The Queers, Covered in Bees and Famous rock your socks off. Dress to impress! Costumes are encouraged (I know I'll be in one!).
WHERE
: Geno's, 625 Congress Street, Portland
$
: ? (usually around $5-$8)
FMI
: 772-7891