Village Soup
, one of my favorite Maine independent newspapers, is trying to drum up some assistance in identifying the mystery man in this old photo of one of Maine's many lighthouse keepers of yore!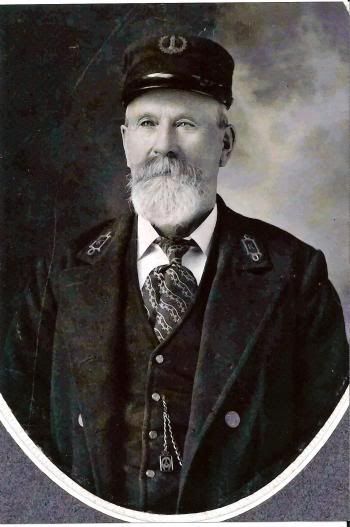 Help needed to identify mystery lighthouse keeper
By American Lighthouse Foundation

WELLS (Oct 10): The American Lighthouse Foundation is asking for the public's help in identifying an old photograph of a Maine lighthouse keeper.

"As we continue to document and record Maine's lost lighthouse history, it's like finding gold when we discover a old photograph of a Maine lighthouse keeper. However, it's very disheartening when you uncover a old photograph and there is no indication of the name of the keeper or what lighthouse or lighthouses he was stationed at," said Tim Harrison, president of the American Lighthouse Foundation.

"We are hoping that there is a descendant of this person residing in Maine who might recognize him," said Harrison. Another possibility the group hopes for is that someone from one of Maine's many community historical societies might be able to shed some light on who the keeper in the old photograph is.

"There are some clues," says Harrison who pointed out that the old photo board was embossed with the name of the photographer, which appears to be J.C. Dalph or J. C. Ralph and also is clearly embossed with the name of Southwest Harbor, Maine indicating that the photographer was probably located in Southwest Harbor. "This might well indicate that the keeper was stationed at one of the lighthouses in the vicinity of Southwest Harbor," says Harrison, who continued by saying he might also have been the keeper of the U. S. Lighthouse Service Lighthouse Depot in Southwest Harbor. However, the keeper could also have traveled some distance to have his photo taken or been visiting another lighthouse keeper at the time.

The unknown keeper in the photo is wearing a vest and jacket with brass lighthouse buttons and the letter "K" sewn on the jacket's lapels indicating that he was a Head Lighthouse Keeper and not an assistant keeper. His pocket watch shows a Masonic emblem surrounded by a horseshoe.

Harrison said that from time to time old photos like this surface and no one knows who the keeper is. "If they had just written the name of the person on the back of the photo," says Harrison, "But I guess they thought, like many people do today, they'd be around forever, or someone would always know who they were."

If anyone can help identify the lighthouse keeper they are encouraged to contact Tim Harrison at the American Lighthouse Foundation, P.O. Box 68, Wells, ME 04090 or call 207-646-0245. Harrison can also be emailed at Tim[at]LighthouseFoundation.org.