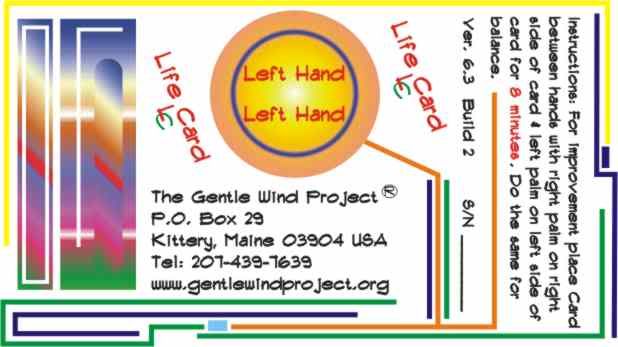 Back in February some of you may remember that we reported on the strange group called "Gentle Wind" that is based out of Kittery (
click here to read original article
). Last week
Carl Starett
, a San Diego lawyer and fellow blogger, posted a comment to the original article pointing out a new development in the story.
According to a July 14th article on the WMTW Channel 8 website, the Maine Attorney General has stepped up and filed a suit against the group.
The Gentle Wind Project designs and sells what it calls "healing instruments" that it said solve a variety of physical and emotional ailments.

Others said the group is a scam.

The attorney general's office accused the group of falsely claiming that their products had healing qualities and of considering the income from their sale as charitable donations rather than sales proceeds.

Prosecutors want the Gentle Wind Project to liquidate its assets, pay the state's legal fees and refund anyone who bought items between 2000 and the present.
Hopefully this will heal some of the millions of dollars (yes, folks, you heard me right, MILLIONS) of financial damage the group has done.
ReligionNewsBlog.com
reports further:
According to the suit, which was filed June 29 in York County Superior Court, the nonprofit group has made false claims about its products, which range from small laminated cards to hockey puck-like discs the group says will treat everything from alcoholism to paralysis. The group claims the devices have been put through rigorous scientific testing and have been proven effective in hospital settings.

Instead, according to the complaint signed by Attorney General Steven Rowe, there was no scientific testing, and the medical professionals who endorsed the products had undisclosed financial relationships with the Kittery-based group.
...
The state's suit marks Gentle Wind's latest appearance in the legal arena. In 2003, the organization sued former members Judy Garvey and her husband, Jim Bergin, of Blue Hill for defamation after the couple published autobiographical essays about their 17 years in the Gentle Wind Project, which they compared to a "mind-control cult."

The couple claimed that they had been exploited financially and let group leaders control every aspect of their lives. Garvey said she was involved in "sexual rituals" that she was told were necessary to create the healing instruments.

To see what some of the "healing instruments" look like up close,
click here
to visit the Skeptico blog site.